Filter
8 Pages Invisible Ink Magic Book With Pen
8 Pages Invisible Ink Magic Book With Pen Dinosaurs, ocean life, rockets and spaceships, vehicles, and numbers are all in one place....
QUESTIONS & ANSWERS
Have a Question?
Be the first to ask a question about this.
Ask a Question
8 Pages Invisible Ink Magic Book With Pen
Dinosaurs, ocean life, rockets and spaceships, vehicles, and numbers are all in one place. Not only will your kid learn about these important topics, but they will do so while coloring countless times. Educating while sparking imagination and creativity, and all of that in a fun way, proved to be probably the best learning method out there.
Prepare your child for school without them even realizing it!
Coloring books have shown us for decades that they are a fun way to teach children to paint and recognize colors, shapes, and words. Materials not met with a child's reluctance, such as a color book, can inspire them to learn and explore and reach developmental milestones sooner rather than later. Kids who willingly grab a pen and paper have a much easier time in school later in life. Improves creativity and imagination and strengthens brainpower
 Reduces anxiety, agitation, discomfort, and restlessness in toddlers
 Keeps your child engaged and motivated to learn for hours
 Develops independence, creativity, attention span, self-discipline
It kept da Vinci occupied! Right?
Your little Renaissance painters might not be in a position to paint a portrait of a lady with an observing gaze and folded arms right away, but who knows what the future holds? What we know for a fact is that it's going to keep them entertained and focused for hours at a time. And to top it off, after they are done, there is no mess behind!

Magical painting with only water! 
No ink and no paint means you can buy new white furniture and never worry if it's gonna get stained.  Non-toxic and non-polluting says we use only eco-friendly materials and keep the environment tidy. Clean and safe – even if your kid puts it in their mouth, nothing's going to happen because you fill it with water. And the best part about this water drawing book for kids is that it's reusable, so you don't need to throw it away once it's fully colored and you can even pass it down to your child's younger sibling.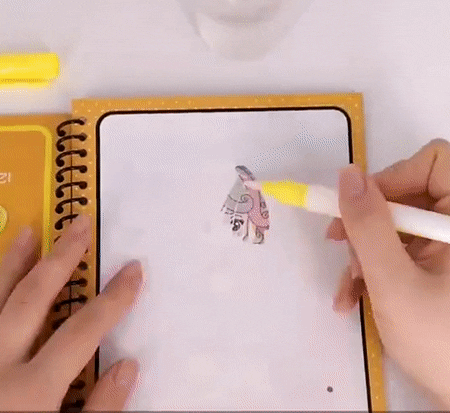 A wonderful gift for little wall painters!
Every wall inside your house doesn't necessarily have to be a canvas. You love your kids, but you also love a clean house. This is a great alternative to explaining to your friends over dinner why there is a new smiley face on the wall painted with crayons.
Tips:
If you are having trouble getting markers to work, remember to soak the tip in water first.
Use clean tap water to fill in the pens and brush.
Please avoid kids using paint or colored pens to draw on the drawing book. 
The book can only be colored with a water pen.
Please keep the drawing book away from the heat.
The drying speed of the watermarks is subject to ambient temperature.
Once you color, the pictures are very vivid and colorful. As soon as they dry the colored areas disappear and the pages can be colored again and again.
Captivating the Hearts of Every Child: Our Magic Water Coloring Book Wins Over Young Imaginations!
Your order of 3000pkr or more gets free standard delivery.
Standard delivered 3-4 Business Days



Orders are processed and delivered Monday-Saturday (excluding public holidays)